SHARE YOUR FAVORITE BOOK

January > June 2013 - Graduation project - UX & UI design
GRADUATION PROJECT WITH CHARLINE BLAMPEY AND ALEXANDRE PERRIGAULT
With a simple tag, connect your favourite book to the app and give it a second life.
Doing so, you can follow its adventures : the readers it meets, citys it visits and miles it travels… follow readers and discover books that are suiting you.
When you are walking arround, geolocate books close to you and get new story to jump into.
Building of a complete project through the whole creative phase : conception, prototype, introduction to users realisation, promotion, spreading, support…
CHALLENGE
- Digital app linked to a log-in either with a NFC or tag QR code.
- Link physic object and digital application both together.
- Humanise and give its own life line to each book.
THE BOOK, A CONNECTED OBJECT

SHARING OF PHYSICAL OBJECT

Every book has its own tag printed and sticked inside. This tag represents their link between reality and physic world.
To drop or pick up a book, the user has to scan the tag.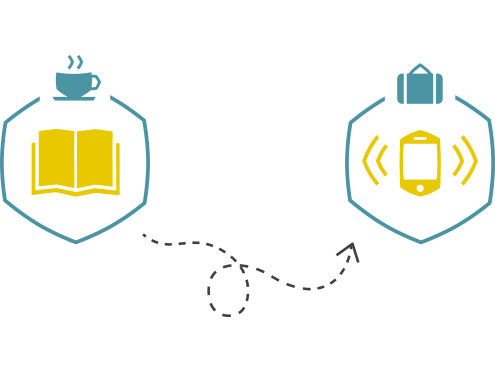 USING PROCESS
THE CONCEPT IS TO PUT A TAG ON THE BOOK YOU'D LIKE TO SHARE. THE BOOK IS LINKED TO THE APP THANKS TO ITS TAG AND ID.
Then the user drops it in a public place in order for an other person to take it and discovers the project. After a reader left a comment, user also drops the book and the cycle goes on.
Each user receives notifications that let him know about travelling book,
identity and location of the reader.

STOPPING – OFF PLACES
HOLDING UP ON FASHION PLACES TAGED «DE MAINS EN MAINS»
TO ENSURE THE BOOK TRAFIC.
Each taged place is highlighted, giving her so visibility and potentional customers (book searching, close book…).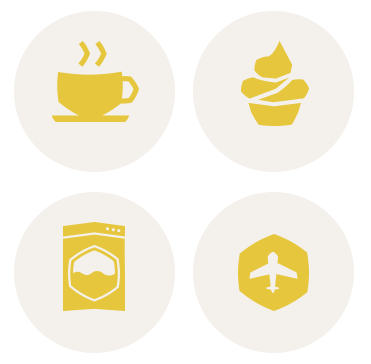 TUTORIAL
THE VERY FIRST TIME THE APPLICATION IS LAUNCHED, THE USER GETS INFORMATIONS ON HOW TO USE THE APP.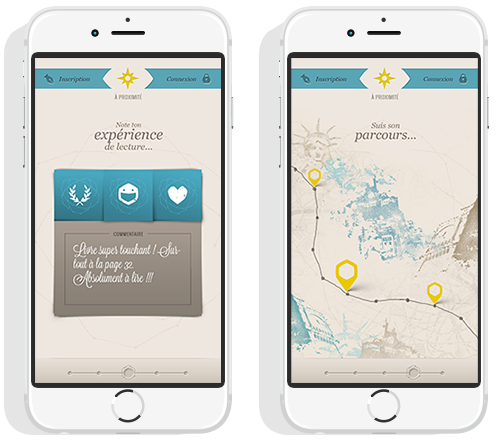 TREE STRUCTURE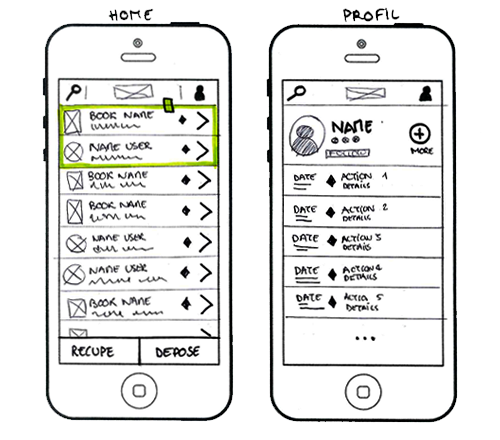 CONCEPTION
A friendly interface to charm the user and makes the app more convivial.
Emotional design by personifying and reminding paper. Intuitive thanks to digital code, instantaneousness and proximity of position.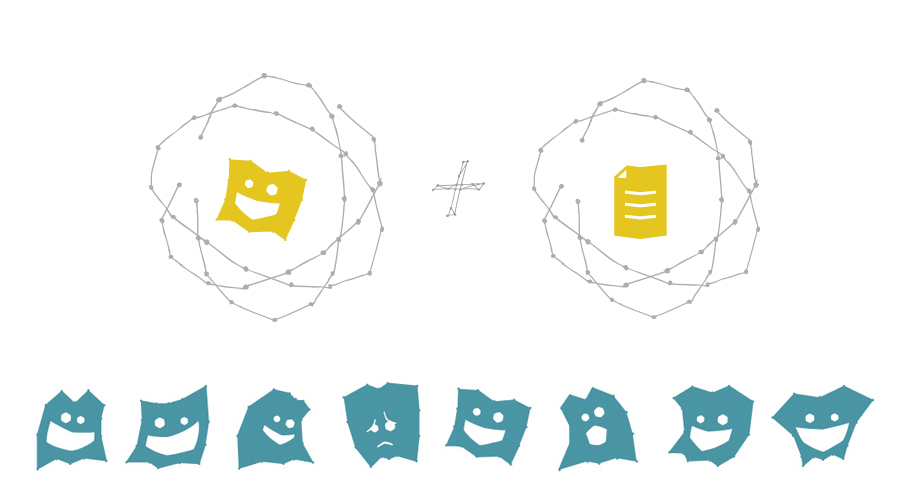 BOOK'S TIMELINE
The timeline is the book's life, it represents its itinerary, from place to place and reader to reader.
« De mains en mains » tell us how the book comes and goes between the hands of every user.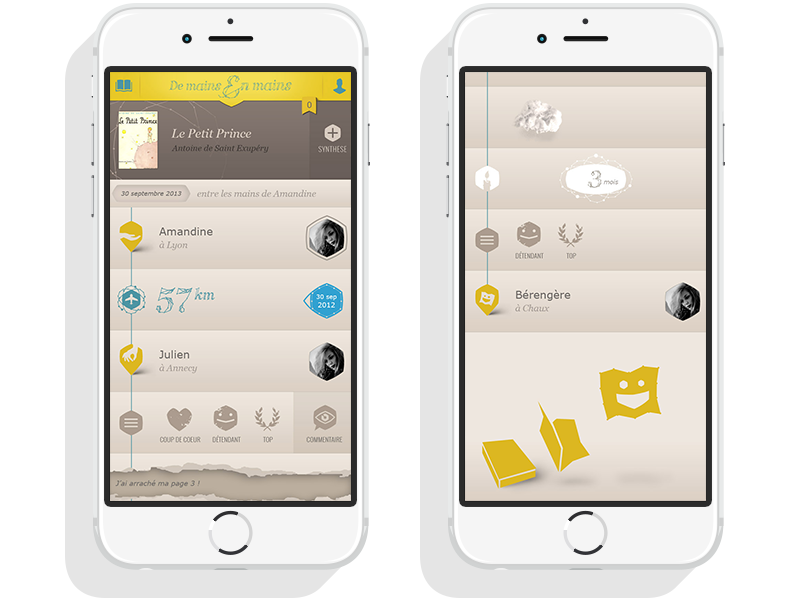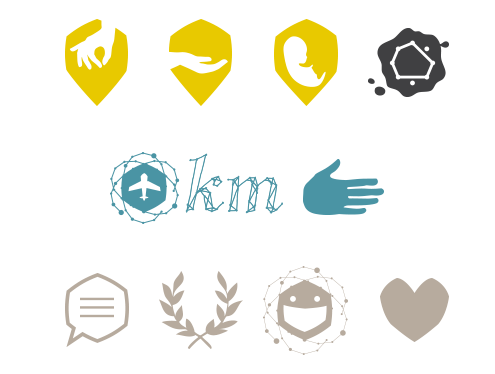 TIMELINE COMPONANTS
STRENGHES OF THIS APPLICATION ARE PLACES BOOK
HAS BEEN AND PEOPLE IT HAS RAN INTO.
The timeline traces up the memory of the book
by recording its specfic moments.
APPLICATION
BOOKS MAP SEARCHING / PREFER TYPE OF BOOKS / READER COMMENTS / HOMEPAGE NEWSFEED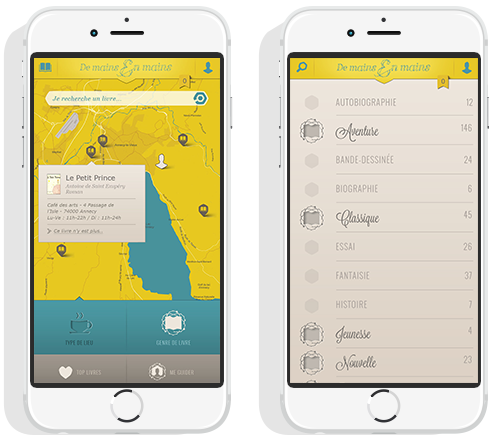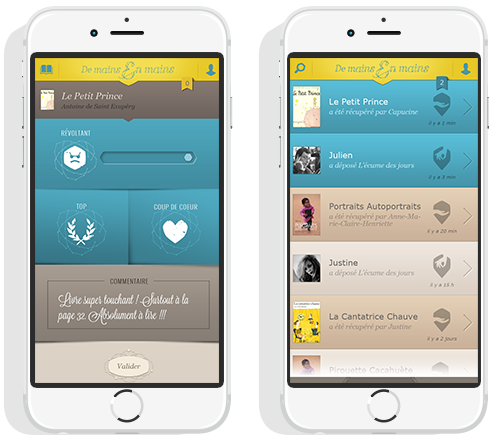 NEWSFEED OF PAGE PROFIL / PROFIL PAGE RESUME
 / USER BADGES / READER COMMENTS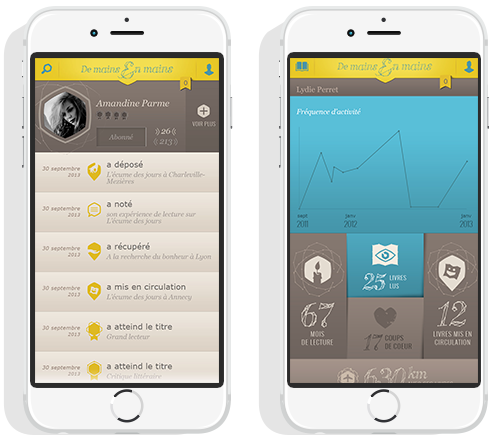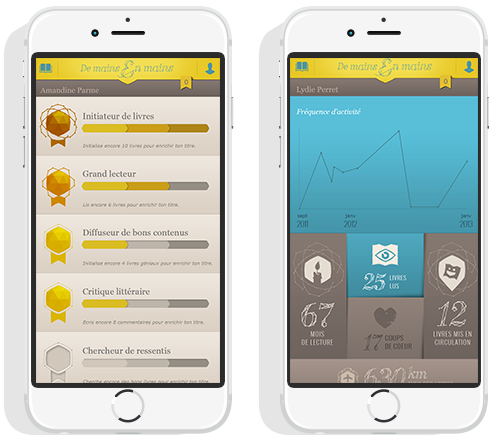 DE MAINS EN MAINS
GIVE A NEW LIFE TO YOUR BOOKS AND FOLLOW THEM FROM HAND TO HAND.